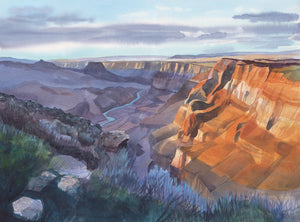 Desert View of the Riverbanks
Looking down on the Colorado River from Desert View, at the eastern end of Grand Canyon National Park. It's sunset. Mystery upon visual mystery unfolds, changing with every degree the sun sets and every passing cloud. 
Image size: 15.75" x 10.5"    Suggested frame size: 20" x 16"
THIS PAINTING SHOULD BE SEEN LARGER. It's the Grand Canyon, after all. The original is 21.5" x 14.75". That print costs $100, and fits nicely into a 22" x 28" frame.